Elder Abuse Hits Close To Home Elder Abuse Awareness 15 - 22 June
27 May 2022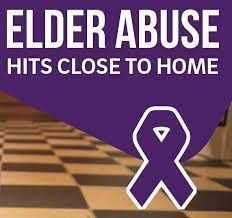 Elder Abuse Awareness 15 - 22 June
As many as one in 10 older people in New Zealand will experience some kind of elder abuse. Most abuse isn't recognised or is ignored.
We can all help to prevent elder abuse and neglect by:
loving and cherishing older relatives/whanua

phoning, zooming or facetiming older people/kaumatua

visit older people/ kaumatua in our neighbourhood

involving older peopl/ kaumatua in our social activities

encouraging older people/ kaumatua to make their own decision

supporting older people/ kaumatua to use their money for their needs

honouring older people's / kaumatua's wisdom

enabling older people/ kaumatua to set their own pace

speaking respectfully and listening to older people's / kaumatua's stories

seeking advice from any Elder Abuse Serive or Age Concern if you think an older person/ kaumatua is being abused or neglected
Elder abuse is a single or repeated act, or lack of appropriate action, occurring within any relationship where there is an expectation of trust, which causes harm or distress to an older person. You can find more about what elder abuse is here.
If you cannot find a service close to you, please contact 0800 EA NOT OK (0800 32 668 65) or Age Concern on 0800 65 2 105.

If you or someone you know is in danger, please contact 111.