Age Concern Volunteers
Volunteers are a vital part of our team. Without the dedication and commitment from our volunteers we wouldn't be able to carry out the work we do.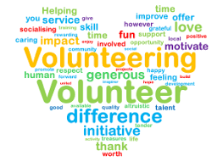 Age Concern Tauranga Volunteers assist with:
Companionship to older people through visits and telephone calls.
Minibus driving / assistant (normal car licence required).
Administration support.
Preparing monthly Newsletter for mail out.
Social Events Support.
Are you?
Interested in the wellbeing of older people.
Able to make a regular time commitment.
Respectful of confidentiality.
Respectful of cultural differences.
Ring us now if this is you! Phone 578 2631 for a Volunteer Application / Enquiry form or download form here